I'm married to an odd duck. Ever since he was a kid with a pond behind the farm house, he's been facinated with boats. Not just any boat but home made boats. We didn't have a garage for half of our marriage but he still managed to build one over twenty years ago in our car port. It sank in a month. He determined to build another someday and do it right next time.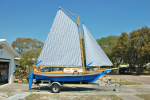 Sailboat:
For a decade, my Husband dreamed of building the Weekender II plans he saw on the Internet. Finally in the Spring of 2009, he bought the plans. However, only a month after he got the plans, he suffered an accident and broke his leg at the hip. Undaunted, he waited until in his recovery, he could get around on a cane. He solicited the help of a friend and started building the sail boat. It was completed in March of 2010. He recorded the build and posted the video series on Youtube. Click Here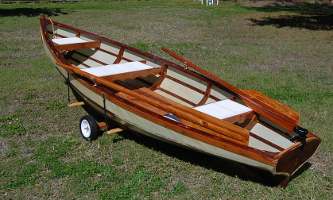 Rowboat:
Three years after the sailboat, my Husband decided to experiment with a new building technique: canvas skin stetched over a wooden rib frame. He recorded his efforts in a series of videos on Youtube. Click Here
I didn't help build these boats but we enjoy using them together.